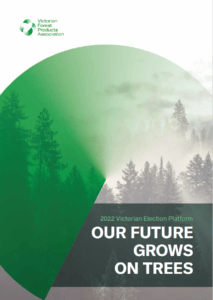 The Victorian Forest Products Association (VFPA) has launched its state election platform, Our future grows on trees. VFPA CEO Deb Kerr said today she was proud to present a program that will help the state meet its demand for timber and its emission reduction targets.
"We need commitment from all sides of politics to support our two-pillar policy platform. This will deliver more timber to our tradies, help decarbonise Victoria's economy to achieve net zero by 2050 and drive innovation, growth, and jobs", said Ms Kerr.
The two pillars are:
Our Home-Grown Timber Future: Our goal is to become self-sufficient in wood products while supporting jobs in Victorian processing and supply chains. For this, we need more investment in a stagnating plantation estate as well as a commitment to a sustainable native forestry industry
Delivering our Climate Future: More trees will sequester more carbon; more wood products in use lead to better ecological outcomes than carbon-intensive alternative materials such as plastic, steel & concrete
"Our asks include more investment to increase the static plantation estate, policies to prioritise wood as a building material, and active forest management for improved ecological outcomes."
"Among today's most pressing issues are climate change and affordable housing. Our sustainable forestry industry produces the only renewable building and packaging material in the world, wood. That means we can and should play our part in addressing these issues", Ms Kerr continued.
Ms Kerr also outlined the VFPA's election strategy. "We are meeting with senior politicians from all parties, outlining our platform and seeking support. We will be active in key seats and growth areas. But we will also be out in forestry communities, through socials and in person where we can, sending a strong signal that our industry has its place in Victoria's future."
"We don't want Victoria to head into a period of growth as the 'import state' – we have a sustainable, renewable resource at our doorstep. Forest industries have come together to support our common goal this coming election– sustainably growing Victoria", Ms Kerr concluded.
Download VFPA's election platform document here.
ENDS