New report shows that Victoria leads the way in softwood imports.
A new report by Forest and Wood Products Australia (FWPA) shows that Victoria takes the lion's share of the nation's softwood imports with a staggering 36%. In the first four months of 2022, this share has jumped to a worrying 44%. Deb Kerr, CEO of the Victorian Forest Products Association (VFPA), said it was time to prioritise investment in the only renewable building material in existence, available at our doorstep – wood.
Photo by Paul Teysen on Unsplash
Every house contains, on average, 14 m³ of wood. In 2020-21, Victoria built 46,300 new homes – that's 33% of Australia's new houses and 11% more than NSW, its closest 'new build' competitor (22%). This building activity created a demand for 648,200m³ of wood.
"Victoria is known as the education state; Melbourne is the sporting capital of Australia and, despite long lockdowns, made it into the Top 10 Most Liveable Cities in 2021. But being the 'import state' is not a title anyone wants to win," said Ms Kerr.
"Victoria is the state that depends on imported wood the most. That makes builders and processors vulnerable to price increases. Geographically speaking, our lack of proximity to overseas sources also works against us. It exposes us to global shortages and supply chain challenges that make other regions, such as North America, more appealing for exporters," Ms Kerr continued.
Other key findings of the report include:
Victoria is the state with the highest dependency on imported wood, and some way ahead of the next-largest importers (NSW/QLD)
Structural wood imports dominate Victorian imports (87%) and Europe is the dominant source for these imports (74%)
Victoria is the most reliant on wood imports to provide for our housing needs – whether for frames, floors, window frames, cabinetry, or the ubiquitous Aussie deck.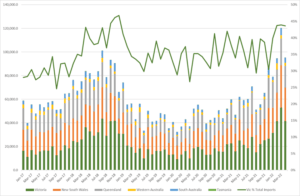 Figure 1: Victoria's softwood imports vs the Victorian average of total national imports
"We already are not growing enough timber for our own needs. Governments have been asleep at the wheel for decades, with a stagnant plantation estate and, more recently, the winding down of our sustainable, renewable, and responsible native timber industry here in Victoria.
"If the projected growth for Victoria is anything to go by, the gap that exists today will only widen. It is time to prioritise investment in the only renewable building material in existence – wood," Ms Kerr concluded.
ENDS
About
The Victorian Forest Products Association (VFPA) represents all elements of the value chain from sustainable harvesting of plantations and multiple-use natural forest resources. VFPA is a policy development and advocacy group that represents the interests of Victoria's sustainable forestry. We collaborate strongly with other industry bodies to ensure the best outcomes for forestry in general and our members more specifically. Our charter provides autonomy to manage state issues. We collaborate with the Australian Forest Products Association (AFPA) on any issues that transcend state borders and have national implications.