The Victorian timber industry is still reeling from yesterday's shock announcement by the Victorian Government to prematurely end native forestry. Today, Deb Kerr, CEO of the Victorian Forest Products Association (VFPA) wants Victoria to have a serious conversation about where our timber will come from.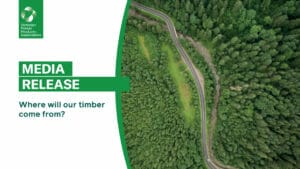 This is not just a conversation about Victoria's native timber but all wood and wood fibre products. From 2024, native timbers will have to come from somewhere else. Victoria already imports more structural timber (softwood) than any other state or territory. By 2050 – the time it takes to grow a plantation pine tree – global demand for wood will outstrip supply by four to one. Victoria cannot sit back and rely on imports to fulfil its need for timber.
"Our use of wood fibre will not suddenly disappear. Quite the opposite as Victoria is set to become Australia's most populous state. Instead of science and commercial realities, other ideologies prevailed yesterday. Today's discussion throws up questions for tomorrow – how will we build homes for our growing population? How will Victoria satisfy its need for wood, brown paper and cardboard if not from Victoria? Where will the timber come from? What is the government's plan to make up for this shortfall?" Ms Kerr asked.
"Yesterday's decision does not consider the fibre we need in future. Victoria needs to face its growing wood supply risk and have a difficult conversation. If we as a state want to be less dependent on interstate and overseas imports, the government needs to get serious about working with the industry. That means co-investing in plantation expansion and wood fibre product alternatives," Ms Kerr concluded.