The industry calls for inclusion of forestry firefighters in presumptive rights scheme.
Last Friday, the Andrews Labor Government announced their intention to expand the presumptive rights scheme to include specific cancers affecting women. Presumptive rights mean that career and volunteer firefighters diagnosed with certain cancers do not need to prove firefighting caused their disease. While the industry welcomed the decision, they call on the Government to include one group of firefighters that has been repeatedly left out – the Forestry Industry Brigades, said Deb Kerr, CEO of the Victorian Forest Products Association (VFPA).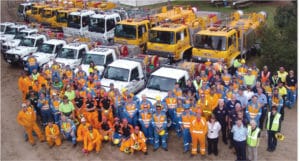 HVP Fire Brigade. Source: HVP
"Forestry firefighters don't just protect assets. During each bushfire season, these firefighters stand united with their fellow firefighters, working tirelessly to ensure the safety of people, homes, forests, communities, critical infrastructure, and wildlife. While we support the inclusion of more cancers affecting women under the scheme, it is high time to include forestry firefighters", said Deb Kerr.
In Victoria, the Forest Industry Brigade under the Country Fire Authority is made up of 800 people employed in the forestry sector. These men and women protect our state during bushfire season alongside other firefighters – volunteers and professionals. With an average of 10 years of individual service each, they have accumulated an impressive 8000 years of service to the Victorian community.
Photo by Matt Palmer on Unsplash
"Our Forestry Industry Brigades take great pride in protecting their communities when faced with the worst circumstances. And the risks they face remain the same, irrespective of the uniform they wear," Ms Kerr concluded.
ENDS