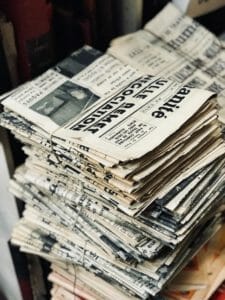 According to the Victorian Recycling Industry Annual Report, our sustainable, local pulp and paper industry processed nearly 1.25 million tonnes of recovered paper and cardboard in 2018/19. It is then given a new lease of life and turned into copy paper, boxes, gift cards, tissue, paper towels and more.
"Not only is Aussie paper, tissue, and cardboard sustainably sourced and better for the environment, more than 54 per cent of these products made in Australia includes recycled content. Wood and fibre processors can recycle paper and cardboard up to eight times into other products," says Deb Kerr, CEO of the Victorian Forest Products Association (VFPA).
"Even when the paper has reached the end of its useful life, it can be composted, and its nutrients returned to the soil. It is the ultimate in circularity, renewability, and sustainability.
"While we still have a way to go in Victoria when it comes to recycling, National Recycling Week is a time to celebrate the excellent work our local paper, tissue and cardboard manufacturers do. Not only do they create products from a renewable resource, but lead the way on recycling too," Ms Kerr concluded.
###