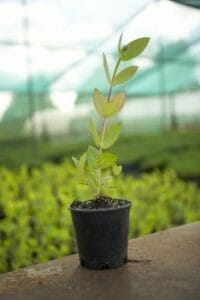 The Victorian Forest Products Association (VFPA) has welcomed the announcement of $4.5M in research & development funding for forestry projects, said Deb Kerr, CEO of VFPA. Federal Assistant Minister for Forestry and Fisheries, Jonno Duniam and Victorian Minister for Agriculture Mary-Anne Thomas announced the successful five new research projects for forestry last week through the National Institute for Forest Products Innovation (NIFPI) Centre in Gippsland.
"Trees are a sustainable, renewable resource right at our doorstep. We appreciate the investment and support of the Federal and Victorian Governments to support research innovation in forestry that will help stretch this valuable resource further," Ms Kerr said.
"These projects will invest in research focussed on innovative nursery solutions, improved productivity and soil health, along with novel pruning options and improving the use of underutilised small trees."
"Victoria's forestry regions are in a unique situation to be part of the global shift to renewable, low-emission wood products, and investment in these projects will underpin the future demand by Victorians for Victorian wood," Ms Kerr said.
"From reducing waste to increasing yield, forestry is at the forefront of innovation. This investment in forestry R&D shows that the Federal and State Government recognise the potential of Victoria's – and Australia's – sustainable plantation forest industries to drive innovation and job creation in Australia," Ms Kerr concluded.
ENDS

About
The Victorian Forest Products Association (VFPA) represents all elements of the value chain from sustainable harvesting of plantations and multiple-use natural forest resources. VFPA is an advocacy and policy development group that represents the interests of Victoria's sustainable forestry. We collaborate strongly with other industry bodies to ensure the best outcomes for forestry in general and our members more specifically. Our charter provides autonomy to manage state issues. We collaborate with the Australian Forest Products Association (AFPA) on any issues that transcend state borders and have national implications.